MEET SCHOOL HOUSE GLUTEN FREE
Shcool House Gluten Free Gourmet is a growing bakery based in Nova Scotia Canada, focussing on healthy delicious and fresh, breads pastries and snacks for people with a variety of different dietary needs including gluten free, dairy free and vegan options.
School House Gluten Free needed an e-commerce website solution to be able to take orders for delivery online. They also required unique shipping functionality which allowed them to deliver their baked goods on time throughout the East Coast and across Canada.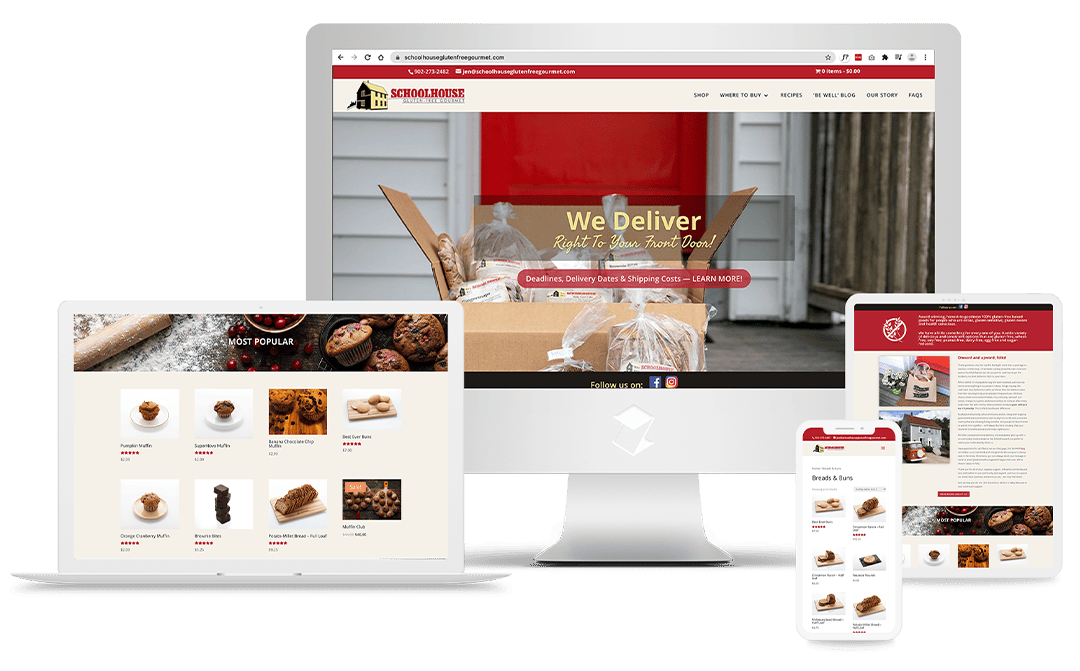 E-Commerce Website, Online Funnel, Ebook Design, Technical Support & Consultation
By having a modern designed e-commerce website that strategically showcased their delicious products, School House Gluten Free was positioned perfectly to transition online when most businesses were scrambling to adapt their business when COVID-19 hit. This allowed School House Gluten free to continue to operate and reach a whole new source of customers that were outside of their local market which helped grow their business.
Co-Founder of School House Gluten Free
"Thank goodness we had the foresight to create an online home delivery service for our bakery over a year ago.  Due to the COVID-19 crisis – our home delivery service went from 5% of our revenue to 65% of our revenue.  Our online ordering system is what is keeping our business open and relevant in this difficult time.  Zigi Media revamped our entire website and created our online store for us.  Their guidance, advice and delivery of services was outstanding. I would highly recommend them."
We provide Done-For-You services that will take the burden of marketing and technology off your plate so you can focus on what you do best. We work with all your favorite online apps and have the experience, strategy, and know-how to build you a profitable digital marketing solution.